Find the solutions to the Crossword Quiz Transportation Level 3. The answers have been split into Cross and Down answers to help you navigate through them easily. Wrong grid? Look for the right one here.
Cross Answers
1A. San Francisco is known for this form of transportation:
cable car
4A.

railroad
6A. Type of vehicle, but also a term used in American football:
punt
7A.

subway
9A.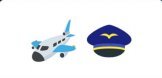 pilot
Down Solutions
1D. Some people say stroller, while other say baby…:
carriage
2D.

blimp
3D. MTV used to air a show called 'pimp my…':
ride
5D. small car, motorboat, or light aircraft, especially one used for short trips:
runabout
7D. transfers the force of the wind to help move a boat:
sail
8D. the name of this boat sounds like the conjunction of you-all:
yawl