Find the solutions to the Crossword Quiz Opposite Level 2. The answers have been split into Cross and Down answers to help you navigate through them easily. Wrong grid? Look for the right one here.
Cross Answers
1A. stale:
fresh
4A.
:
sober
5A.
:
east
8A. the cause of cowardice:
courage
10A. …. will be loved maroon 5 hit.:
he
11A. this word means a large number of or majority of people:
few
13A.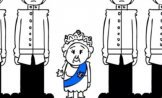 :
king
14A. stupidity:
sense
Down Solutions
1D. stay:
flee
2D.
:
sister
3D. another word for lightly colored skin:
dark
6D. below:
above
7D. impatiently counting how many people are in …. of you while waiting in a line.:
behind
9D.
:
awake
12D. defeat:
win