Find the solutions to the Crossword Quiz Games Level 6. The answers have been split into Cross and Down answers to help you navigate through them easily. Wrong grid? Look for the right one here.
Cross Answers
2A. Set of actions performed in a sequence usually used in video games like mortal combat:
combo
4A. Message often in video games that signals the player that they have failed the game:
game over
6A.
:
mario
8A. League of legends:
LOL
9A. This game is played using a plastic grid of lettered dice:
boggle
10A. …: Most wanted:
NFS
11A.
:
sorry
Down Solutions
1D. Faults in the programming which cause unintended effects:
bugs
2D. Organized course of action for the story of a video game like on call of duty:
campaign
3D. Massive multiplayer online:
MMO
5D.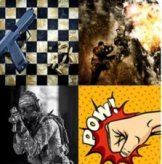 :
violent
7D. In Poker this type of straight is unbeatable:
flush
9D. Significant computer-controlled enemy:
boss